Calisthenics consists of full body movements and intense exercises that give you a total body workout. To practice this crazy workout there are actual calisthenics gyms out there and lots of people actually head into local parks to use the bars there to practice their calisthenics workout, but what if you could practice this intense workout without even leaving your home?
Well, I did it, I made a Calisthenics gym in my home. I am not the biggest fan of gyms and I figured I would use it more if it was in my house so I bought the things I needed too and created this at home calisthenics gym.
Follow my tips below and customize your equipment to suit your body and needs and make your own homemade calisthenics gym.
The Must-Have Calisthenics Equipment
My gym is now complete, although I do add the odd thing every now and again, I do have a complete at home gym and as you read on you can see all of the things I currently have in my gym and what I use to practice my Calisthenic workouts.
What I love about my equipment is that you don't have to just practice calisthenics with these things, there are so many workouts that can be done and the gym doubles as a normal gym whenever you need it too.
---
Best: Pull-up Bar
A pull up bar is the first must-have for a calisthenics home gym, there are so many exercises to master on a pull-up bar as it's one of the best ways build strength, power and muscle.
This is my favorite pull-up bar as it allows you to incorporate so much into your workout by just using this one frame, there is a cheaper version of a pull-up bar below but if you want something that will last, is great quality and help you achieve the goals this is the best piece of kit I have.
This is the 'Stamina Power Tower' and it's my favorite pull-up bar, I did a price check and on 29/11/2023 I found the cheapest price for this bar.
You can learn to build total body strength with this bar as it allows you to combine many exercises and gives your body what it needs to create an incredible difference mentally and physically.
It even has a built-in dip-station, push-up station, sit up station and pull-up bar. The frame is incredibly sturdy and allows for explosive workouts in your own home whenever you want them.
---
Door:  Pull-up Bar
Although I don't usually recommend door pull-up bars this one is different, it is inconceivably sturdy and hasn't failed me yet. It has remarkable reviews online and unlike a lot of door pull-up bars like it, this one comes strong mounting bolts and actually holds all of my weight without any movement.
You can even customize this bar with different textures to really make your own and to make sure it flows with the color scheme of your home gym.
This door pull-up bar is awesome for those who perhaps don't have space for a home gym or those who are renting and don't want to buy large equipment.
---
Best: Dip Station
A dip station is used for a number of different exercises such as tricep dips, bicep dips, chest exercises, shoulder exercises and leg swings to name a few.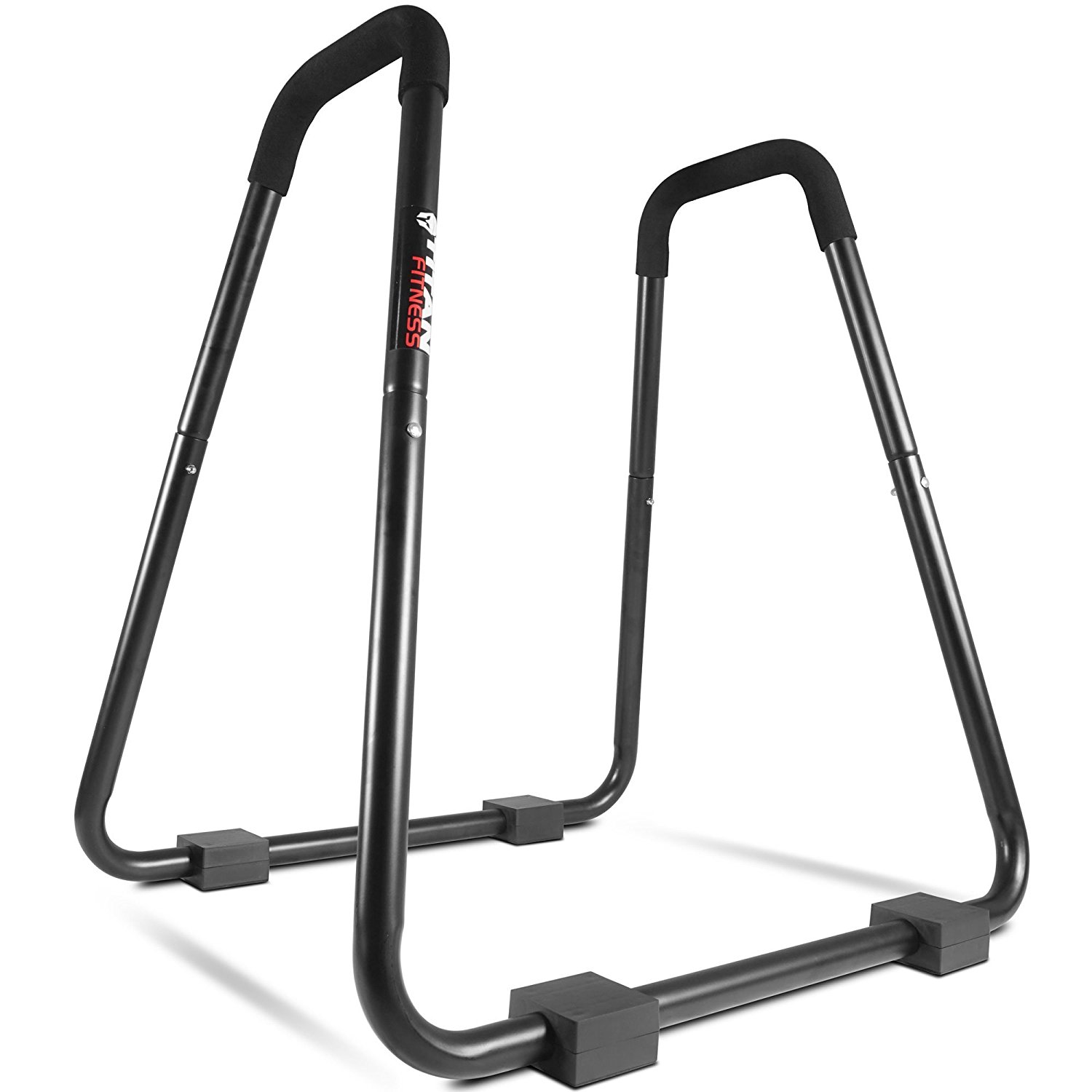 This dip station is astoundingly sturdy and can withhold a massive amount of weight as well as catering for tall guys. I also did a price check on 29/11/2023 and found this dip station was on offer, which made it incredible value for money.
Dip stations give you an intense workout and really make them hard to reach muscles burn, you feel the effects of a dip station almost instantly, they are really great fun to use but also they do offer you an all over upper body session.
---
Best: Push-Up Bars
More commonly known as push-up stands or push-up handles, these push-up bars make your push-up workout more intense and provide relief to your wrists.
Push-up bars are a great addition to your calisthenics gym as they add a new element to your regular push-up routine. They allow you to increase the difficulty and allow you to try new things without the fear of wrist pain and with the knowledge that your push-ups are worth more in the long run.
This push-up bar set is sturdy and has a non-slip texture on the base so you don't need to worry about them slipping over, however, I would place padding beneath them to ensure maximum efficiency.
Something you may suffer from is wrist pain, I know my wrists hurt after long training sessions, especially since starting calisthenics. These push-up bars stop this pain and ensure you aren't in a state of hyper-extension as they usually are in regular push-ups.
A push-up bar allows you to not just practice push-ups but planks, handstand push-ups, tricep dips and more.
---
Extra Calisthenics Equipment You Should Own
If you really want to make a kickass calisthenics gym, there are a few accessories that you can add to really make it just as great as a professional gym.
These small things won't make or break your home gym but they will allow you to experiment with different exercises, achieve different gains and help you to remain consistent.
---
Best: Gym Rings
Gym rings offer you a core workout along with increased upper body strength, agility, balance, grip strength and a more defined and lean physique. They can even be more challenging than a pull-up bar when used properly.
These gym rings were price checked and on 29/11/2023 I found them at the best price online.
These gym rings are easy to assemble, made from high-quality materials, are made in the USA and are customizable so you can get exactly what you need.
My gym rings don't take up much space in my home gym and provide me with an additional workout and different exercises so that I can change things up in my fitness routine whenever I need too. I find my upper body burning after a workout when using the gym rings, even after all these months, they still test me and I am still reaping the benefits.
---
Budget: Gym rings

Although these budget gym rings are ideal for those on a budget, they are still great quality and provide you with access to lots of different exercises and the ability to improve your strength, core and physique.
Despite their price, they are sturdy, can support a lot of weight and provide you with the ability to practice your calisthenics exercises without spending lots of money.
I don't think the quality of these rings are as good as my favorite gym rings but they are great for the money and if you're still unsure about calisthenics or are just testing the water with gym rings, these would be great.
---
Best: Resistance Bands

Resistance bands allow you to train your muscles and get a workout without lifting weights and without lots of effort. Resistance bands can be a little tricky to master but once you get the hang of them, you just incorporate them into your workout and add intensity thanks to the added resistance and extra effort you must put in.
This is my favorite pack of resistance bands that come in 5 different difficulties, meaning you can work different muscle groups and tailor your resistance needs to you.
This gym accessory is a great way to make simple exercises more extreme, which means you get more benefits in the long run.
---
Best: Weight Belt
This is my favorite at home weighted belt. If you didn't know a weight belt is cheaper, easier to use and more adaptable than a weight vest. A weight belt helps to increase your performance, increases core stability and spine stability.
Aside from giving your spine and core stability and support and weighted belt also make chin-ups and chest exercises more intense thanks to the added weight, which means more gains and more of a challenge.
A weight belt is much more adaptable than a weighted vest and is much easier to train with, despite giving you the same benefits.
This another favorite of mine:
This Rogue dip belt provides extreme tension to you which in turn makes you work harder and provides you with a bigger challenge and more intense workouts. It's a pretty simple accessory to your at home calisthenics gym but totally worth it if you want the most out of your workouts.
---
Weighted Vest
Despite the belt above being easier to train with, a weighted vest is something you could add into your home gym for shocking workouts.
By wearing a weighted vest whilst you workout your muscles must work harder, which gives you more gains and makes you work harder. Weighted vests can be hard to get used to but if you can learn to train safely with one on you will find a huge difference in your muscles and the way you train. Plus taking it off at the end of a training session feels amazing.
---
Calisthenics Flooring
I made my gym and covered the floor with gym flooring, I use this non-slip exercise flooring and made sure to cover my entire workout area. My reason for doing this was so I could really make the room feel like a gym, so my equipment wouldn't damage the tiles and so that there was a little bit of soundproofing for my downstairs neighbors.
This flooring is made from non-slip technology and it's really easy to clean with just a mop and some water.
All of the tiles just fit together and where the edges were too long I just cut them off with a box cutter so that my room has a perfect fit for the tiles. The only space without the tiles is as you walk in as the door is too low to fit them in but I am not using this space anyway.
I love these tiles and am so glad I added them to my at home calisthenics gym, even if you just have a small space for your home gym I recommend getting them as it makes a huge difference to your workout.
---
Best Calisthenics Training Program
There is a training programme that I have been following for the past few months, I have found it so motivating and easy to follow in my own gym but you could complete the exercises in local parks.
The training programme is the 'Bar Brothers Calisthenics Workout' (I have a discount code that gets you 30% off) it shows you all of the exercises you should be doing, how to do them and how you can excel at them. I found their story really motivational and seeing how the two brothers had changed their body really inspired me to give calisthenics a try and so far I have seen amazing changed in my body, strength and mental outlook on training in general.
I have also read amazing things about other people using the calisthenics training programme and there are lots of people out there who dedicate their success to following the rules and guides in this course.
---
Benefits Of An At Home Calisthenics Gym
The reason I love training at home is that I find gyms quite hard to love, I also find I can't go too 'hard' for fear of people judging me.
Training at home allows me to really excel at my workout and I can also train at any time of day and whenever I want and I don't have to pay a monthly membership fee. Yes, buying the calisthenics equipment was pricey but I have saved time and money in the long run by not going to the gym.
Also, a lot of gyms don't cater to calisthenic workouts and if they do this equipment is usually taken.
Personally, I just find training at home so much better for me. I can grunt, sweat, look like a fool, shower and do what I want and it wasn't that expensive, it just required a little bit of knowledge and perseverance.
---
Things I Wish I Knew Before I Made My Gym
Having an at-home gym has a million advantages for me but there are a few little downsides that I just wanted to highlight, things that I wish I knew that would have made my gym even better.
Noise Inside An Apartment
I live in an apartment which means noisy neighbors and I can be that noisy neighbor. My floor tiles do offer some noise isolation but I do fear that I can be heard grunting. If I was to do it again I would soundproof the walls too and perhaps even put down double layers of floor tiles.
Good Quality Products Always Win The Race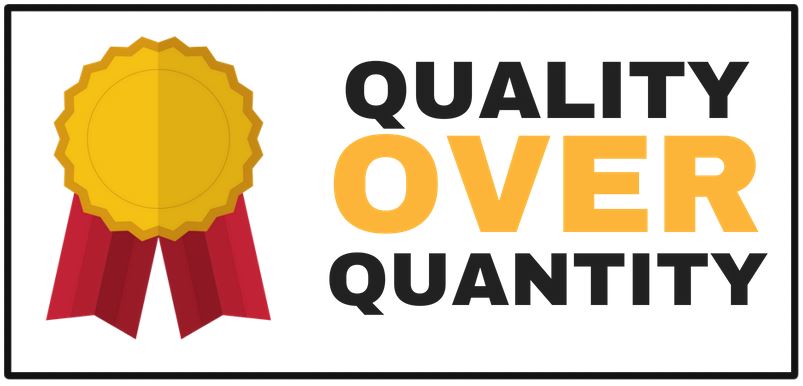 Cheap doesn't always mean bad but the better the quality, the better the item. I always go for quality where I can and for training, good quality can prevent injuries and save you money in the long run.
Making sure your equipment is sturdy, can hold your weight and has a generally good score is all you really need. Just remember if you try and skimp and save on certain items it may come back to bite you.
Should You Add Weights To Your Gym?
Calisthenics training doesn't incorporate weights, you use your complete bodyweight to train but if you like to change things up or even if you just want to pimp your gym out there's no reason not to get weights. I currently have weights because I love to do all types of exercises and my girlfriend uses them too but I wouldn't say they were totally necessary.
Using my pull-up bar and using the calisthenics training program should be enough for you to see gains without the need of weights.
However, adding weights once or twice per week will definitely speed up the process of gaining muscle and getting shredded.
I also have a weightlifting gym setup that you can check out if you want to know what weights I use and recommend.