I'm sick of paying $125 per month to go to a gym, just to spend 10 minutes waiting to use the bench press or squat rack.
So, I decided to save my gym membership money for the next 3 months and buy myself a budget-friendly home gym, now I have some simple rules to abide by:
It's got to fit inside one room in my 3-bedroom apartment.
It's got to be cheaper than a year of gym membership
It's got to allow me to completely train my whole body.
Two months later and I've achieved this goal and I'm going to show you the exact gym equipment all home gyms need and where to get it on a tight budget.
Everyone's Idea of Budget is different:
I've added a budget-friendly and higher quality version of each must-have product.
After months of research for my home gym I found that this is as cheap as you can build a home gym, while still getting quality, long lasting products that will pay for themselves in the years to come.
Most Important Home Gym Equipment
I've broken this down into the order I purchased my gym and this order allows you to quit your gym membership and start full body training at home.
---
Best: Overal Budget Dumbells (Ever Green)
With a good pair of dumbells you can train your back, arms, abs, legs, butt, shoulders and basically your full body.
This made it the first purchase of my home gym, now I already had some old adjustable weights that I'd let rust get the better of, so I decided to splash out and get this pair of fixed (adjustable weights):
These dumbells are a little pricey but replace 16 pairs of dumbbells and 825lbs of free weight.
The cheap option for dumbells is free weights, but they feel cheap, don't load well and leave you constantly unscrewing to add or subtract weight.
With the PowerBlocks you get the best of both worlds, you get what feels like a fixed weight, but you can easily in a matter of seconds adjust the weight from 5lbs to 50lbs (per dumbbell), saving time and storage.
I updated and found the cheapest price on 29/11/2023 for the PowerBlock dumbbells and it's from the same shop I purchased them from.
Each dumbbell has an ability to go from 5lbs to 50lbs, but if you upgrade you can get a set that goes all the way to 90lbs dumbbell.
These are currently the highest quality dumbells I've used and if you're in a small apartment and don't have loads of storage these free up massive amounts of space.
Why are they so expensive?
I was on a budget, but I knew that spending the extra money on a good set of dumbbells would be worth it in the long run.
However, I know the struggle of a budget, so I've added another option, that comes with more weight and is cheaper, it's ideal for people who have a bigger space for their home gym.
---
Budget: Dumbell Option:
If you want a long-term gym, them dumbells are worth the price, however, if you need something at a lower price that will do the job now, try these: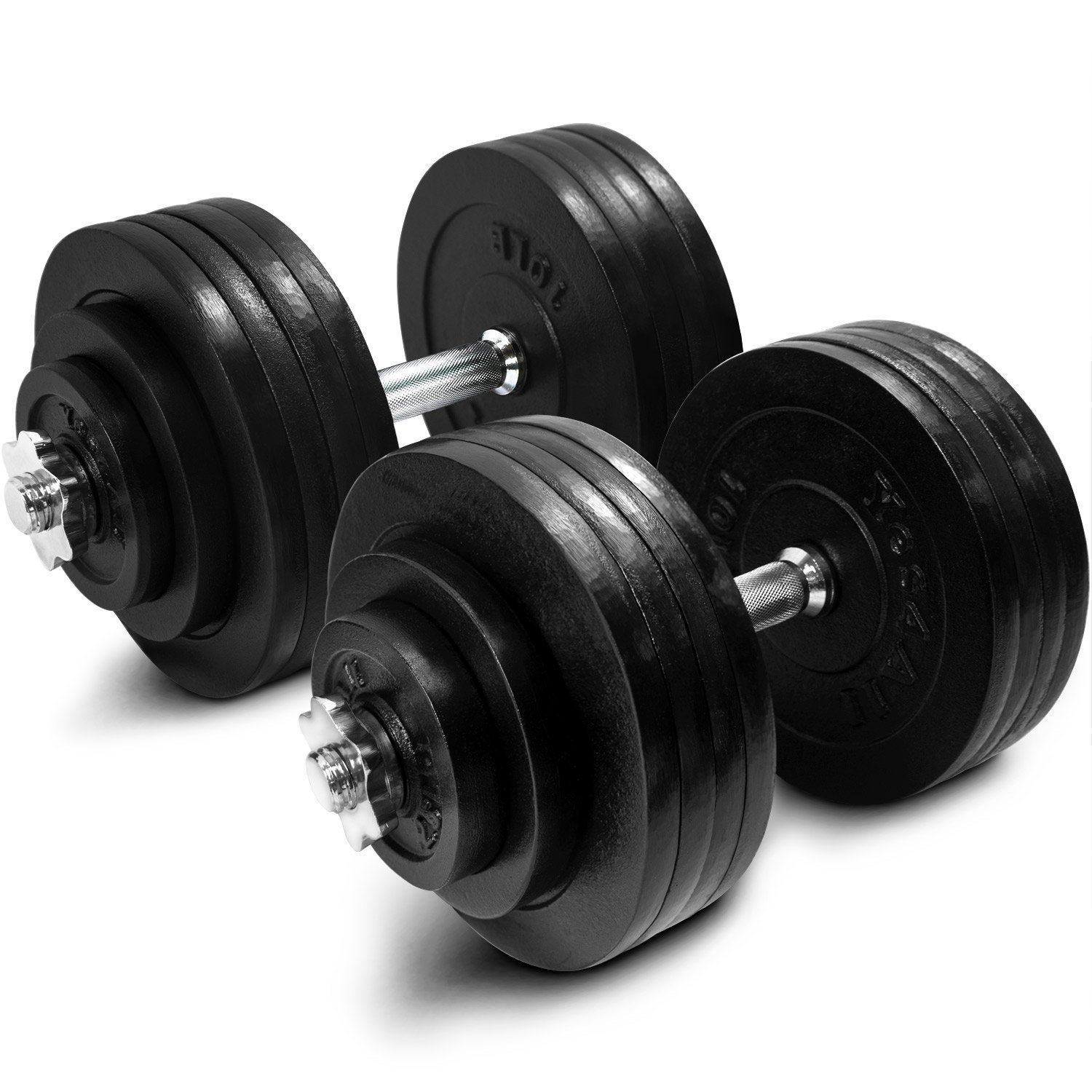 These completely adjustable dumbells come from 40lbs all the way to 200lbs, they're the best-priced dumbells I've seen and they have over 1300 reviews with a 5 out of 5-star rating.
Update: I did a price check on 29/11/2023 and found out of all the fitness sites these dumbells where cheapest here.
---
Best: Weight Bench
The only thing that dumbbells can't do (on their own) is really hit the chest area, so the second thing you must get is a weight bench.
You can do almost all your body with just a set of decent dumbells and weight bench and that's why it's the second highest product.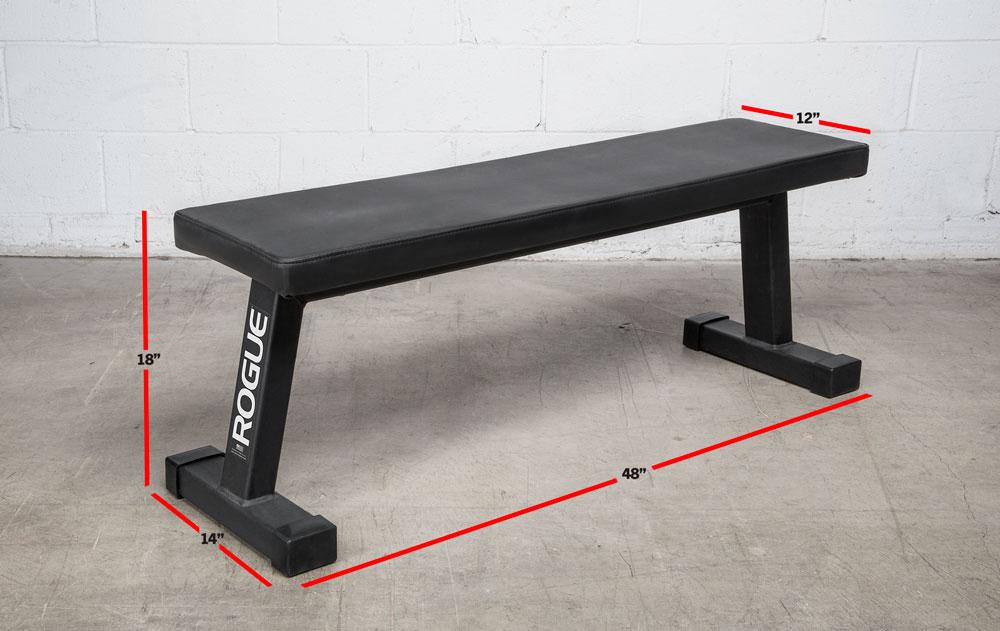 This Rogue bench is one of the highest quality benches money can buy.
It's secure (gym quality), can take lots of weigh, comes fully assembled and is stronger than anything you'll find on amazon.
It's a little pricey, but if you only spent money on two things I'd recommend this bench and a good pair of dumbbells (at the start), then I'd add the stuff below.
---
Budget: Weight Bench:
I do understand budget-friendly and I've been on a tight one for many years, so I've added a second bench, that fits budget over quality and is perfect for people who arn't planning on lifting massive amounts of weights.
For the price, this bench is extremely good, it's strong, comes with over 1300 reviews with an amazing 5 start out of 5-star rating and to top that off it's under $50.
This is ideal for most users and should only be avoided if you plan on benching heavy weights as you need a higher grade product like the rogue bench above.
I checked and on 29/11/2023 I found this bench at the best price.
---
Best: Barbell
Barbells are optional (at the start), but if you want to have a complete gym replacer you need one.
Now barbells can get extremely expensive you're talking $400 for just the bar and no added weights.
However, I found this axle barbell at an unreal price.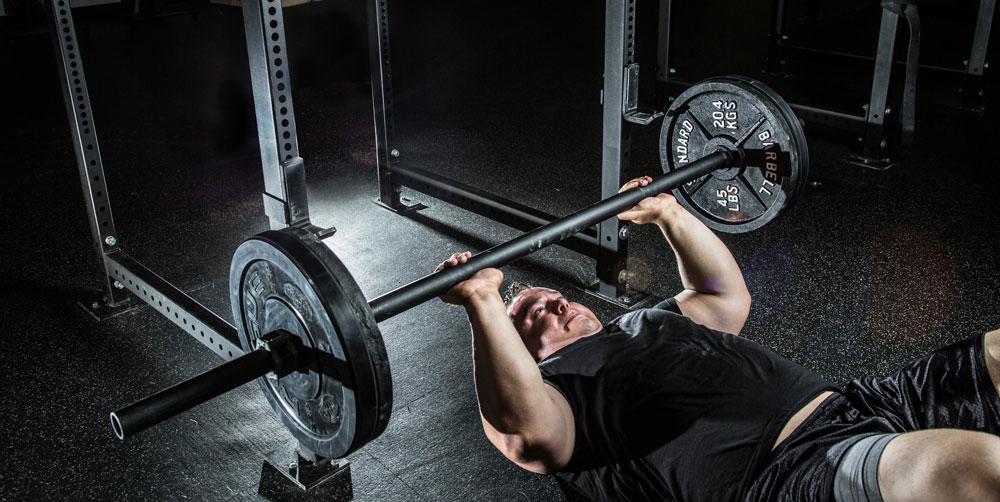 That's the bar being used right there, it weighs 25lbs and is an axle bar meaning it's a little thicker than a normal bar, but for under $125 you just can't go wrong.
It's amazing quality and I completely trust this bar when I bench and squat.
The thickness takes some getting used to, but I actually prefer it to my old barbell now.
You can see the bar laid our right here:

It's perfect for deadlifts, bench press and squats.
I would add a budget option, but I couldn't find anything as high quality for even near this price.
---
Budget: Squat/Pullup/Bench Press Rack
Probably the most expensive part of a home gym is the racks, now if you're into calisthenics workouts then this isn't an issue, but most of use enjoy benchpress and squats and you just can't risk it without a good rack.
Now most squat racks come in around $500 +, I found one of my favorites for under $100: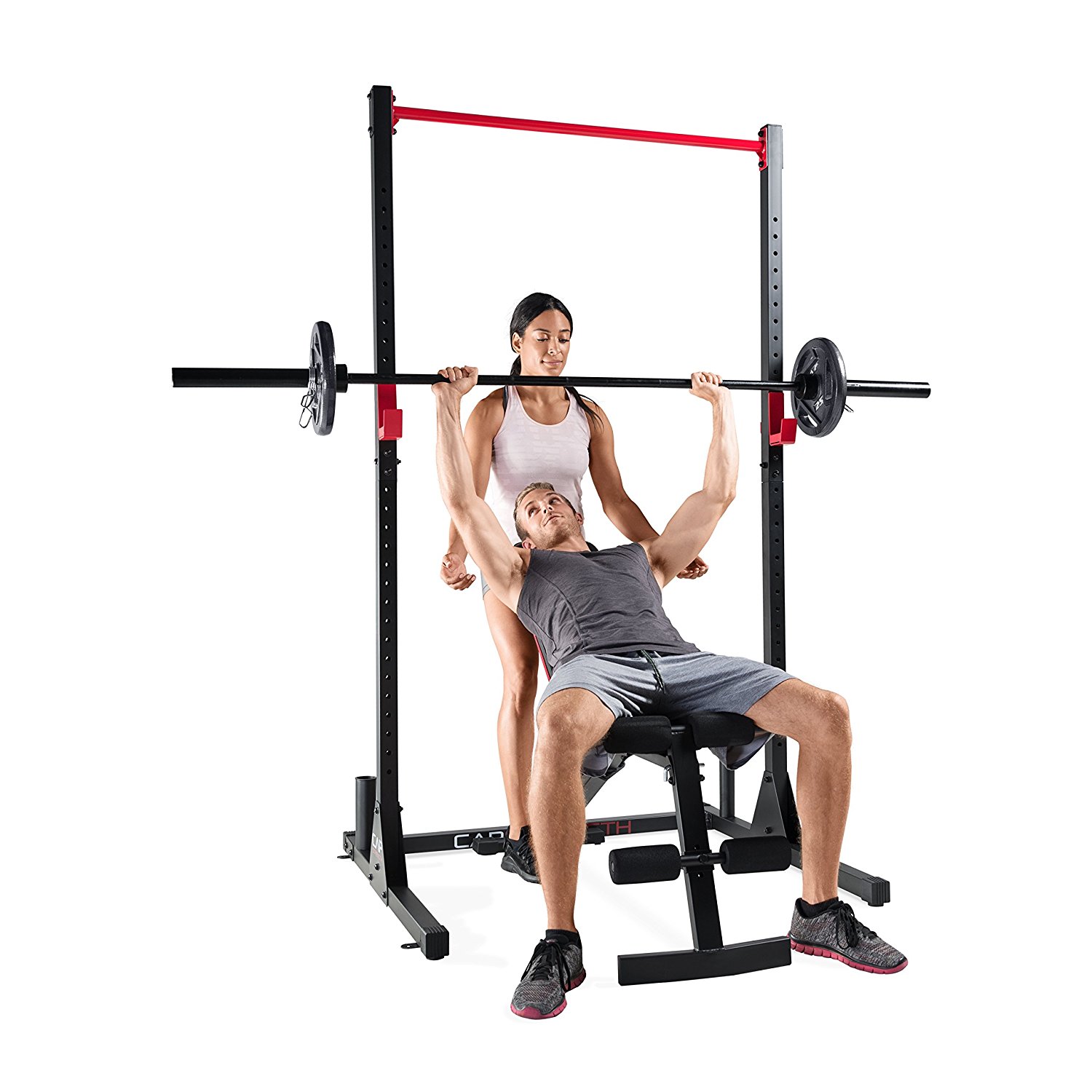 This squat rack comes with a pull-up bar and works with bench press and the rogue bench above perfectly, it has a maximum load weight of 300lbs for bench, squats and pull-ups.
Usually I show the highest quality first, however, this is the setup I have as the one below is currently unrealistic for the size of my apartment.
Now this squat rack has over 800 reviews and is still a 5-star rating (out of 5 stars)
It's perfect for beginners and people who aren't lifting over 300 pounds (most of us).
Plus the added pull-up bar is awesome and the price is unbelievably low.
I personally don't buy much fitness equipment from Amazon (due to quality issues), but this rack was a total game changer and is something I personally love.
---
Best: Power Rack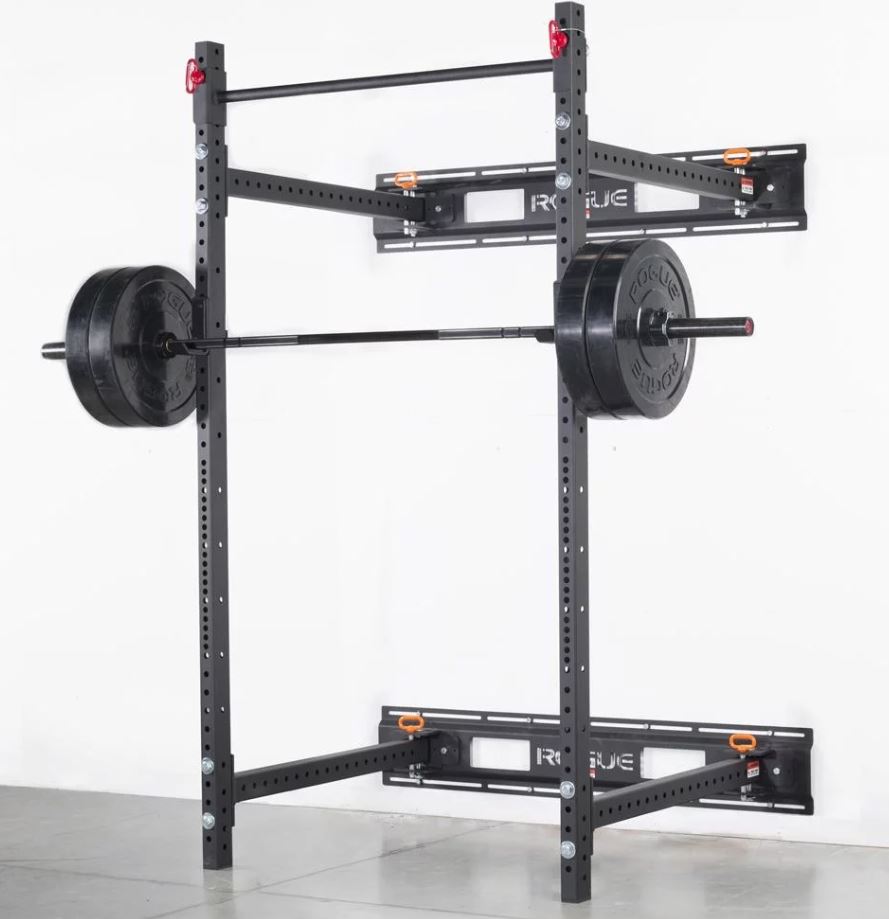 If you want a full power rack that's gym grade then my current favorite is the Rogue R-3WC power rack.
It can do everything the one above can, is gym quality and is retractable to the wall so it can be hidden away and give you more space.
It's more customizable and if you look on rogues store you can add things like a dip bar, gym rings amongst other customizations.
This is what I'd go for if you have a bigger budget and more space, if not the one above is perfect for starting out.
---
Best: Free Weights
The last essential is free weights and as a rule of thumb, you'll want around 200 pounds for a fully functioning home gym without the need to upgrade in the future, however, you can build up to that weight as slow as you and your budget desire.
Free weights come down to preference, the two most popular are iron and rubber, rubber being the more expensive of the two.
Personally, I love the way rubber feels when lifting, but there's no difference between the two, so if you're on a serious budget go with cast iron.
The best bumpers I've used are: 
These Rogue Echo bumper plates are the highest quality budget plates on the planet (my opinion).
They're the highest quality, come at an amazing price and will cost you around $245.00 for 160lbs of weight.
Even though these feel amazing to lift with, weights are weights at the end of the day and you can save a massive almost 100 bucks buying these cheaper iron weights (below), so if you don't care about the feel of your weights check these out:
---
Budget: Free Weights
These cast iron weights are amazing and you can get 160 pounds for almost a hundred dollars cheaper than if you buy gym quality rogue weights.
Personally, I have a mix of the above rogue weights and these weights, both do the job nicely, I prefer the rogue and for the extra 70 bucks it's worth getting splashing out.
For the start I'd recommend getting this free weight setup:
160 pounds of weight will be the perfect start to your home gym and you can easily add another couple of 25lb weights in the future.
Using the above setup on the weights recommended will cost you around $175.
---
The Extra Things I've Added In My Budget Home Gym
All the above completely replaces the need to go to the gym and is saving me around 1000 dollars per year, plus all the time I save from not driving 10 minutes to the gym and then having to wait for all the equipment.
I've also added a few extra non-necessary equipment to my gym over the past 3 months.
I purchased a few kettlebells inspired from Joe Rogan and Onnit.
I love the way you can move and throw a kettlebell around.
I originally didn't see any difference between a kettlebell and dumbells, till I tried them and saw the massive difference the kettle grip makes.
It allows you to move and throw the weight around quick and incorporate your whole body.
It's not a must buy, but if you're into crossfit and core training, a pair can defonitly be a good investment.
I have new flooring and didn't want to damage it gym equipment, so I picked up some of that gym flooring and covered my whole floor in it.
It's helped soundproof the room, has stopped damage the floor and has added more grip.
it feels good on my feet and joints and is easy to clean.
Definitely not a must, but something I don't regret installing.
Budget Cardio Machines
The hardest part about not going to the gym and living in a country where most of the summer it's 110 degrees is that cardio becomes hard.
After a lot of testing I've found that there's two budget cardo machines I'd recommend:
Rowing machines are awesome.
They train your full body while helping build your muscle and cardio while aiding weight lose.
If I have limited time I jump on my rowing machine for 10 minutes and my body comes to life, it's an amazing warm up and full gym session.
On Amazon you can find multiple spinning bikes for under $300, these are perfect for hitting your cardio, weight lose and warm up.
I'm in the process of buying the one above for my home gym and will let you know what it's like once it's installed.
---
Home GYM Tips & Tricks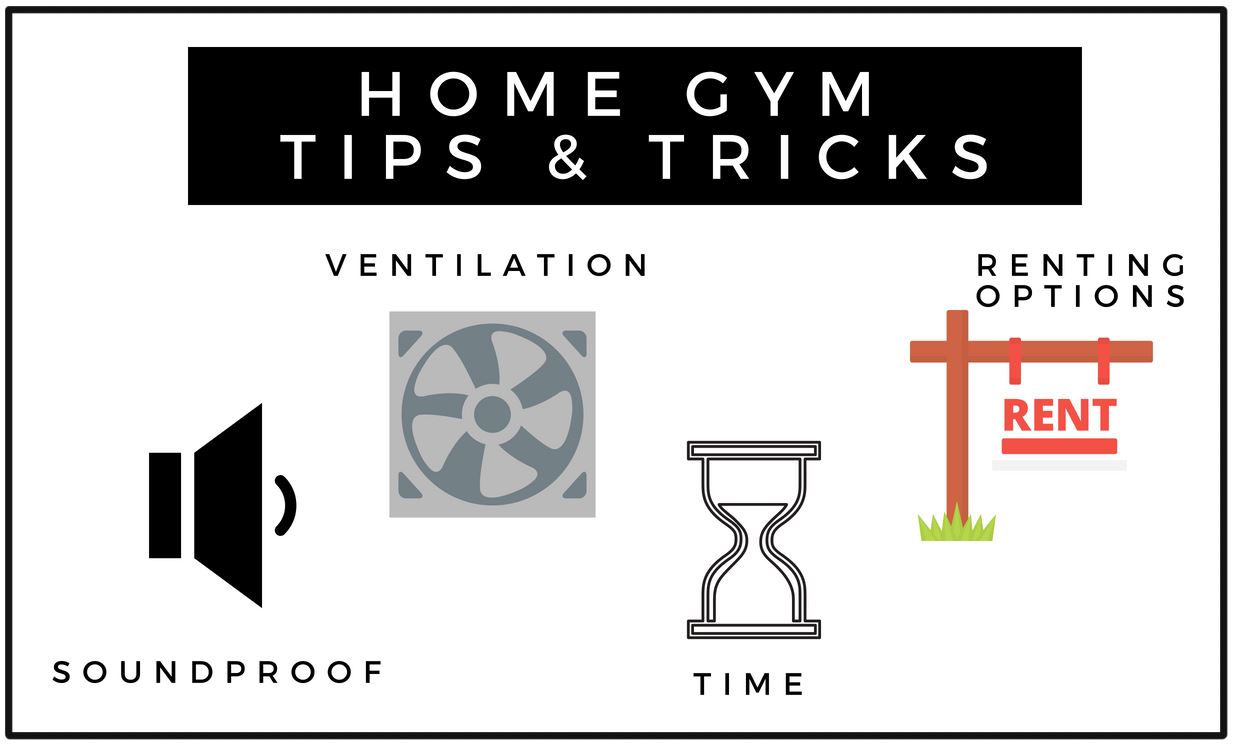 Here's some things I wish I knew before building a home gym, just the basics that I managed to forget about.
Sound Advice for gym in an apartment: 
It's a good idea to put down some gym flooring or a rug, just anything to stop the weights against the floor.
It makes loads of sound of people below you and completely destroys the floor after just a few months.
You can start with any type of rug/gym flooring, it only needs to be big enough to place your free weights.
Gym Should Have Good Ventilation:
My gym doesn't have windows or correct ventilation, this makes the room hot and stuffy and messes with the air quality.
It's a good idea to get a good quality fan, maybe even an air purifier if you're in the same situation.
Take It Slow & Build Your Gym To Last
You should focus on long term quality over getting a quick fix:
I brought my gym in this order and I'd recommend you do the same:
Dumbells (with some free weights)
Weight Bench
Barbell
Start Buying Free Weights
Power Rack or Half Rack
Finish Buying Free Weights
That order allows you to focus on quality and still allows you to work out at your home gym right away.
I've seen many people try to buy all their gym equipment at once trying to get everything on a budget and ending up with a room full of low-quality junk.
You're better off spending a little extra, taking your time and building a gym that you'll have access to for ages.
If You Rent This List Is For You
I made this list with people who rent in mind, there's nothing part from the rogue power rack that is permanent, all of the above can be moved and will work for renters and homeowners.
---
This was updated on 29/11/2023 and I'll keep updating it whenever my gym setup changed, so keep an eye out.